KNIGHTS OF THE BLACK CROSS…
Countdown to
THE MARSCHER LORDS:Brotherhood or Death

Going Active…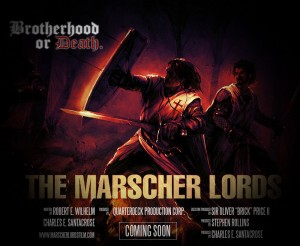 …on Indiegogo.com is January 15, 2014. This is where we hope to raise the necessary $$ for production. Please tell all your friends, family, people you know, people you used to know, people you may know, people you don't know, people who you don't want to know, & people who you certainly – in all circumstances – definitely do not know (whew – that cover it?). Today ads began running on Facebook in the U.S., UK, & Germany.  Oh, to be in deep pockets when production time is near ;<). But we're not – at least not yet – not till we get this one under our belt. THE MARSCHER LORDS:Brotherhood or Death will establish QuarterDeck Production Corp. & the brand. We have some very powerful allies on our production team, including Sir Brick Price, Dean Andre, John Lynch, Sir Mike Tielmann, and Stephen Rollins. Not only each and every one stellar in his own right, but altogether a great bunch of guys. We're really proud to be working with them.
And one of the things our dear friend, the late Charles E. Santacrose mentioned was that though this be  a short film, in reality it's like an outtake from a full length feature film. THE MARSCHER LORDS:Brotherhood or Death could easily be expanded to a full length feature. Alice Through the Looking Glass. The eye is on that already.
There are times I wonder if I should be posting in German – there's been a lot of interest expressed in this project from Germany, but we figure most browsers have a translator built in and  – besides – having been to Deutschland several times – I can attest to the fact that English is a second language there.
Wenn es sein muss, werde Ich.
Our Facebook page is (as of this writing) at 944 "likes". Make sure you check it out, lots of interesting stuff over there: breakdowns of Großmeistern (Grand Masters) of the Teutonic Knights, the structure and ranks of the organization, the histories thereof, breakdowns of important engagements, etc. Some fascinating accounts of the irascibility of some of the Großmeistern, including Konrad I of Thuringia – 1239-1240 – for example:
A proud, quick, fiery-tempered magnate. He once seized the archbishop of Mainz, swung him round, and threatened to cut him in two; he stormed, plundered, and set fire to an imperial free town for an affront offered him. However, admonished of his sins he became penitent and reconciled himself by monastic vow to the Pope and mankind about 1234.
Maybe Decaf would've been in order but it wasn't around then ;<) These are the types of men THE MARSCHER LORDS:Brotherhood or Death is about. There's nothing "metrosexual" or fey about them; they were hardcore, courageous, brutal when needed, religious, protective of the defenseless, and fighting – not for themselves –  but God & for their fellow man. Chivalric to a fault, and often to death.
These are the stories that haven't been told folks. The industry has largely passed them by. As Sir Brick once pointed out, "So many of the movies made about knights or knighthood don' t get to the core of what it's all about. THE MARSCHER LORDS:Brotherhood or Death does, and that's why I'm eager to bring it to the screen and very, very proud to be a part of this project."
KNIGHTS OF THE BLACK CROSS.
HEROES OF AN ORDER.
MASTERS OF WAR. SOLDIERS OF DISTINCTION.
Follow Us on Twitter @dutchmn007 #marscherlords