Out with the Old. In with the New…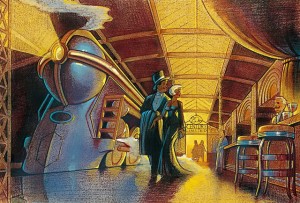 These are truly revolutionary times we're livin'. When has the power of technology been so available to those who seek it? It's has never been as easy to produce & shoot your own film/tv project than now. No big clunky film cameras that make noise in action. Got a handheld? – That'll do! Besides – it's quiet! Whether funded out of our own pockets (like we haven't all done this?) or from crowdfunding sources (the latter is a special skill still developing, as yours truly has found out). Even distribution is different now. Can't secure a distribution deal thru the big studios or one of the smaller companies? Okay – create your own website for it and put it out there. Is it easy? Well, Yes & No. The "Yes" in that if you've got at least a handheld Iphone you can shoot your own film & have the capability to upload it to the web.  The "No" part of that is "is it easy to get an audience?" With the ease comes competition. There's lots of competition out there for eyes, "likes", website "hits", and youtube "views". So you've got to make it good. But realize it's an outlet NO ONE has ever had before. We've all seen the crazy & kooky video clips that go viral on youtube: guitar playing dogs, cats that skateboard, or a water-skiing squirrel, etc. There's a million of them and will be a million more. Welcome to the 21st Century. Now the "industry gatekeepers" aren't as powerful anymore & that's a good thing. Shake It Up. "The Industry" has been getting progressively worse over the past twenty years or so & this can be proven in one word: REMAKES. How many remakes get made every year? Always been of the idea that creativity comes out of creating something new (i.e. something that hasn't been done before, d'uhhh!). How do you call yourself "creative" when you're remaking something that's already been done? That's "creative"? Must've missed that the last time I waded thru Webster. Time to grab the bull by the horns and do it on our own. Friend of the site Mike "Moose" Moutsatsos is doing just that with Stalkerazzi. His script is tight, well-written, & keeps you on the edge of your seat. Studied with Mike in Scott Columby's excellent acting workshop. Scott (a veteran of many tv shows as well as Caddyshack & Porky's) is now putting together a production of his own, the classic Hatful of Rain  to be produced here in LA. Stay tuned for more updates.
Out with the Old. In with the New. A wise man once said that the most important thing is a film is "story-story-story"; Like everything else, there's some great stuff out there but – ahh…like the Princess – you have to kiss a lot of toads to find the Prince. Television is doing more creative things than film right now. Again I reference Sleepy Hollow: this show just keeps getting better & better: the storylines are both intriguing & compelling, the cast even more solid. Couldn't be done better. It's different, unique, well-written, & has a solid story line that reels you in.
Precisely the ingredients mixed together in THE MARSCHER LORDS: Brotherhood or Death. It's a solid story line that reels you in and – truthfully – people don't know what to expect. That's a good thing: for both you & the audience. For any Actor/ Writer/Director,  predictability = death.    Moreover, there's SOOOO MUCH out there – stories that haven't been told – that to remake something that's already been done is (in this writer's humble opinion)- not only stupid – but really beyond the pale. To put it another way; let's get three guys together that can play guitar and back them with a drummer. They record a version of "A Hard Day's Night" – and it goes up on Itunes. Would that be exciting? Would you be tearing your hair out to get online to buy/download it? (Yawn!) Exactly. It's been done. Leave it alone and move on to something else. The whole paradigm that the industry has been using for years has been exposed. The paradigm threatens originality. Why do you think so many complain about how movies suck anymore? Any Actor/Writer/Director must maintain their individuality because that's what gives them their edge. The moment you surrender your individuality you just become another cog in the wheel, another brick in the wall.
Out with the Old. In with the New: THE MARSCHER LORDS: Brotherhood or Death, Scorched Earth: The Other Side of World War II, Masters of War: Soldiers of Distinction, The Forty Days, All the Iron Men, Order of the Valiant…we've got some excellent, exciting, tantilizing, thought-provoking  projects coming. Some not without controversy mind you, but that's alright.
Controversy means press, n'est pas? &  don't forget to like THE MARSCHER LORDS: Brotherhood or Death  on Facebook!!!
Controversy is not something QuarterDeck Production Corp. will ever shrink from.