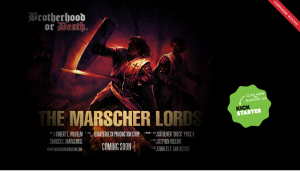 THE MARSCHER LORDS: Brotherhood or Death Grows in Popularity on Social Media!!!
Thank you One & All!!!! THE MARSCHER LORDS:Brotherhood or Death facebook page  has just passed 615 likes with 381 "talking about". HOO-RAH!!! That figure will probably be obsolete shortly (like we're complaining? – NOT!!!) How's that for a no-budget PR campaign? And to think we were ecstatic when we reached 500 likes!!! Proof positive that not only is there an audience for this film but that audiences are obviously hungry for something different. Standard Hollywood fare has become rather stale of late (with – of course –  the aformentioned exception of Fox's new Sleepy Hollow). As our dear friend & Exec Prod (but shortly to move into Executive Production Design) Sir Brick Price has mentioned, so many dramatic films dealing with the subject of Knights or their Orders are little more than "costume dramas" where you find too many of the Usual Suspects: 1) the Knight as a wayward, lost soul 2) Damsel In Distress 3) Wayward Knight will find lost soul and save Damsel In Distress from evil a) knight or b) landowner. That seems to be the principle paradigm of these types of dramas for some time (principle ingredient of a factory is an assembly line, n'est pas?) Again, Sir Brick points out that the true essence of being a knight is service to others in any and all circumstances, i.e. looking out for those who are a) defenseless b) and/or in need of protection/escort. A knight was (in the Middle Ages)  in effect a Monk who lived life as a soldier. He took vows of duty, poverty, chastity, and obedience to God. The Teutonic Knights motto was/is, " Helfen – Wehren – Heilen "  
 " Help – Defend – Heal "  
THE MARSCHER LORDS: Brotherhood or Death Grows in Popularity on Social Media!!!
Can't really say it enough times!!! We're on to something here folks!!! "Help – Defend – Heal" was true of both the Teutonic Knights and those of the Knights Templar, the latter which have received far more coverage & attention in the film world. With THE MARSCHER LORDS: Brotherhood or Death we're hoping to change that! As you can see from checking out our Facebook page, we're getting a lot of international interest, primarily from Great Britain & Germany (allies again as they were all the way through the Napoleonic Wars! ). By all means feel free to contact us here on on our Facebook page, we love hearing from you and engaging with you and hearing your comments and thoughts. Audience interaction – just like doing live theatre!!!
So please keep spreading the word folks!!! It's working and the traffic on our facebook page is proof of that. As we've been telling people, this is the movie that YOU are making possible!!!  We live in revolutionary times, times in which you now have the power to project your influence over – not only your viewing and entertainment choices like never before – but over what is being made. We came up with the project, sourced it, researched it, and put it out there and you responded. Take your bow and keep them coming!!! It's because of you that we're able to trumpet
THE MARSCHER LORDS: Brotherhood or Death Grows in Popularity on Social Media!!!